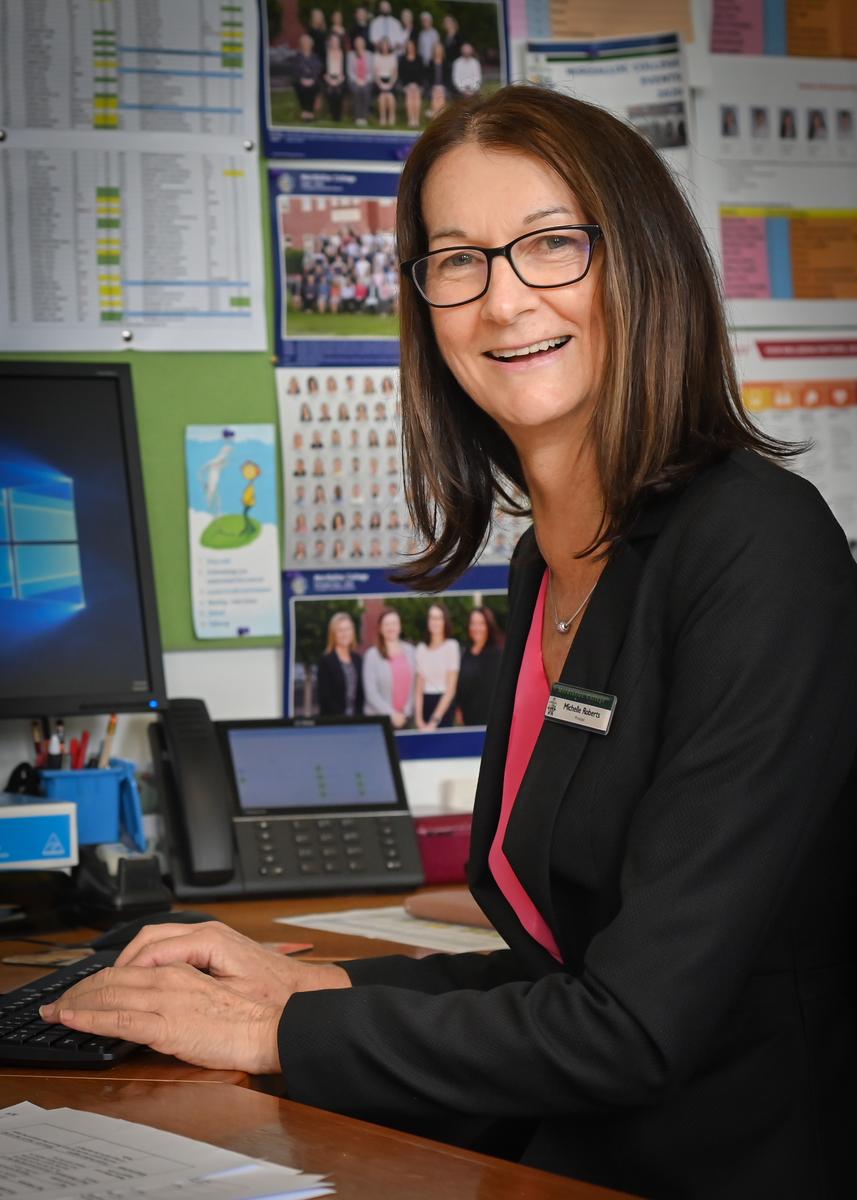 Dear Families, Students and Community Members,
At 5.30pm last Thursday I attended an online Principal briefing that formally announced we would be going into lockdown. It was only after this briefing that I could officially inform my staff and the rest of the school community about the arrangements. I would like to congratulate my staff for their calm and professional response to the circuit breaker lockdown announcement, including their rapid preparations to transition back to Remote Learning.
It is most unfortunate that we have had to go back to remote learning again, disrupting another term. Understandably this may cause concern and anxiety among our community. However, as I have said on numerous occasions over the past 18 months, we have been very successful in our remote learning program for students throughout this pandemic and have gone into each period of remote learning with great confidence that we can meet the needs of our students in this space.
It again highlights the need for everyone to be so adaptable and flexible and be prepared for quick transitions in and of remote learning for short periods of time. Our school community can be assured that our learning program continues whether onsite or offsite.
As in previous lockdowns, it is going to be critically important that we continue to work very closely together in partnership with families to ensure that we provide the very best possible support for the ongoing wellbeing and learning needs of our students and your children. The cumulative effect of several lockdowns may be starting to take its toll and I encourage families to utilise the services of our Wellbeing Team if needed. You can contact the Wellbeing Team via wellbeing@mc.vic.edu.au to arrange a suitable time for a chat.
As I communicated via Compass email on Tuesday afternoon, lockdown is to be extended for another 7 days and schools have been told to plan for remote learning to continue until at least Tuesday July 27. Hopefully we are welcoming all students back onsite on Wednesday July 28. A reminder that all students should now be well into their school routine – attending their online lessons following our normal school timetable as outlined in the Parent andStudent Guide to Remote Learning I emailed out to all families last Thursday night via Compass. If any student or families are having any technical issues, please call or email the school to speak to one of our IT team members who are in attendance each day onsite to support students and staff. We want all our students to be successful and are available to assist in any way we can.
Thanks again to all parents and students for your ongoing support. We have a fantastic school community, and we will again rise to whatever challenges are presented to us this term as we continue to do the best we can to support each other and our students and families through this difficult and uncertain time.
Course Counselling VCE, VETiS & VCAL 2022
Our Years 9-11 students will be involved in course counselling sessions for their 2022 subject selections and pathways discussions with a member of the Leadership Team during this week and next week. Last year we conducted these appointments remotely, and it was a most successful and efficient process, allowing parents and students to be involved.
On Tuesday July 20, Year 10 into 11 course counselling and VCAL progress checks and pathways interviews were conducted via Google Meets appointments and classes were cancelled.
On Tuesday July 27, all SEAL and Year 10 Advance course counselling will occur with remote learning continuing. Students will attend their online classes and just come out of class to attend their scheduled appointment via Google Meet (not onsite as originally planned for these students).
On Thursday July 29, Year 9 into 10 course counselling will now be onsite (as long as we have been able to return to onsite learning). Students will attend their normal classes onsite and just come out of class for their scheduled appointment as shown on their Compass schedule. Parents, if available, will be able to join the appointment via Google Meet.
My thanks to members of my Leadership Team and our Pathways Coordinators, who are involved in supporting our students and parents with these important decisions. Please contact Director of Senior School, Joanne Greenhalgh, or Assistant Principal, Andrew Moffat, if there are any issues or concerns.
End of Semester One Reports
The end of semester one reports for all students were available via the parent and student portals on Compass last Friday afternoon for parents and students to access. Please contact the College if you have not been able to access your child's report. I hope parents take the opportunity to discuss the report with their child/ren and talk about appropriate actions to put in place to address any areas for improvement highlighted.
Parent Teacher Student Interviews – Term 3
Advance notice – We are planning to conduct Years 7-12 parent teacher student interviews in Week 8 of this term on Wednesday 1st September 11am-7.30pm. These interviews will be conducted via Google Meets to provide greater convenience and efficiency for families. Last year we received a lot of positive feedback about our remote interviews process and, after conducting a combination of onsite and remote interviews in the last week of Term 1, we will be conducting all interviews online for this event in Term 3. Bookings will open via the Compass portal two weeks prior to the interview day/night.
Cancellation or Postponement of Camps and Excursions
Unfortunately given the current lockdown conditions, camps and excursions are again not permitted until further notice. The Advance Ski Camp and Year 12 VCE Lord Somers Camp both scheduled for this week are being rescheduled to mid-term, when hopefully they can proceed.
School Production
At our whole school assembly last Tuesday in our gymnasium, we launched this year's production of We Will Rock You with a performance of one of the numbers from the show, involving some of the cast. This was certainly well received and generated much excitement among staff and students. Tickets went on sale last Thursday morning and were all sold out within a couple of hours for our four performance nights. We were planning on adding a fifth show as a Saturday matinee but then lockdown occurred and, therefore, we didn't release these tickets.
Unfortunately, given our performance nights are scheduled for next week, and there are bound to be restrictions on what schools can and cannot do in coming out of lockdown, we are currently looking into whether it is possible to re-schedule amidst a very busy calendar of events already in place and,, in addition, what is possible with the strict licensing agreement we must abide by.
So much hard work has gone into putting the show together since the start of the school year and more recently with extra rehearsals during the school holidays and on Sundays to assist students' preparations. I would like to congratulate all students who are involved, whether in the cast or backstage crew, for their dedication throughout the year in preparing for this showcase event. We hope we can recognise and reward their efforts with a re-schedule of these performance nights.
My sincere thanks to my staff producing the show and supporting our students, Adelle Stevenson, Mara Sears, Cameron Young and Claire Bruce and our three former students directing the show Hannah Blavo, Natalie Wood and Imogen Kane.
Facility Development
We are on track for completion of our new two storey building by Christmas, which is most pleasing given the recent weather. In addition, the complete redevelopment of our four outside hardcourts (two basketball and two netball courts) will be completed by the start of Term 1, ready for student use. Over the next fortnight the following will be completed in the new building: external stair formwork installation, roof purlins installation, roof sheet installation commencement, then first floor timber construction to commence following this and vermiculite spray fire proofing.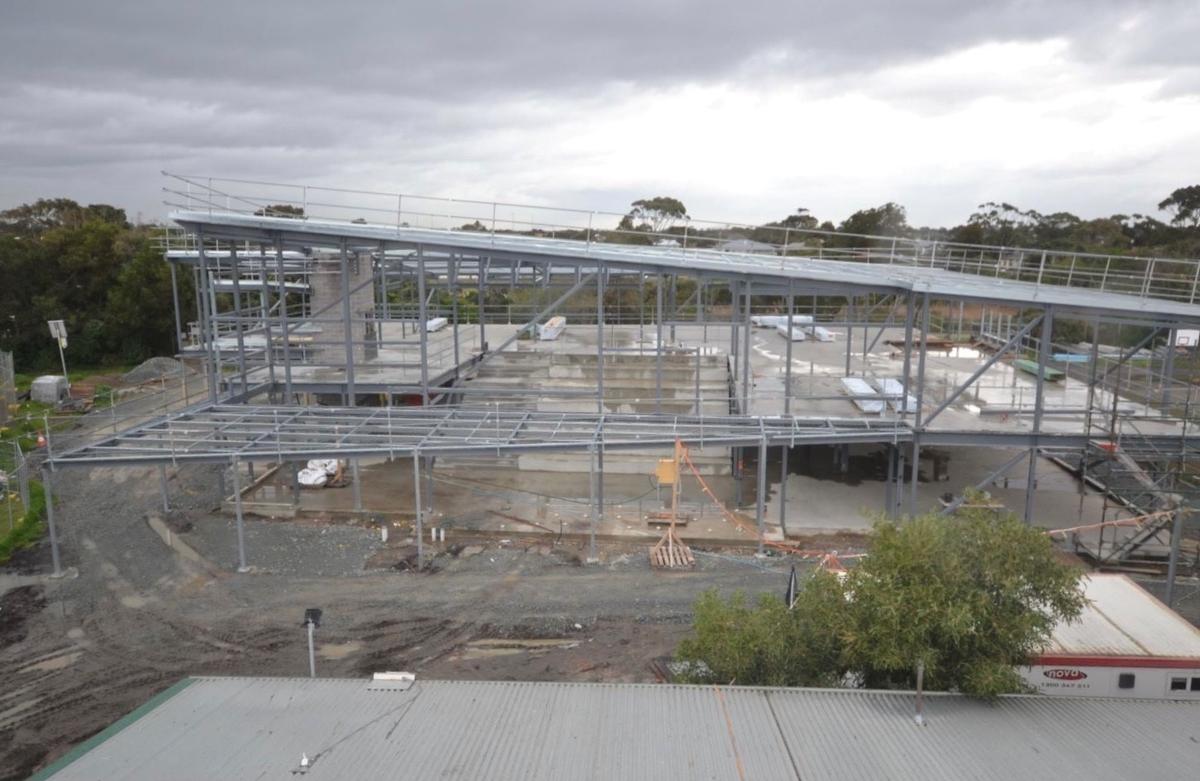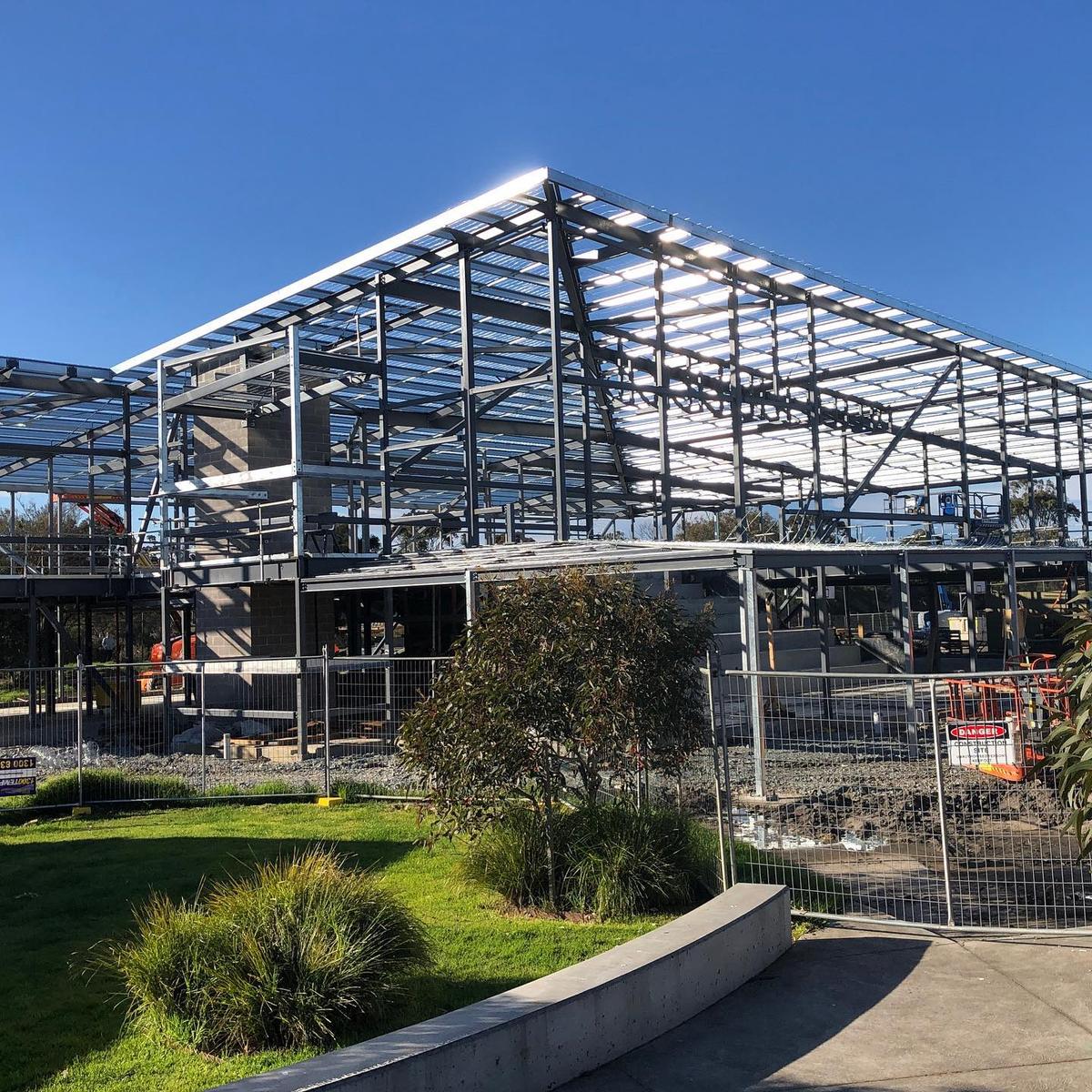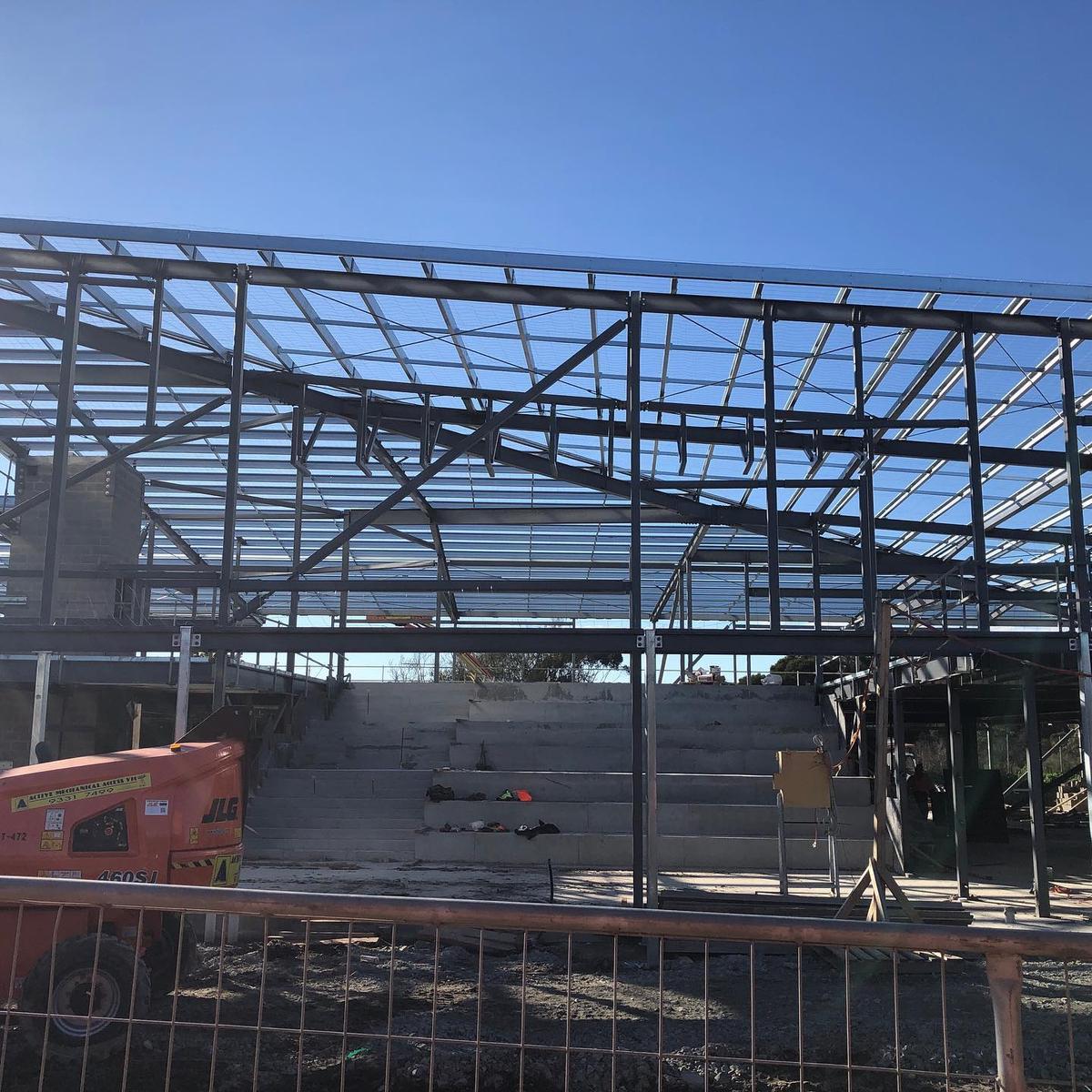 In addition, we are also making plans for moving the Senior School to the Year 7 Learning Centre by the end of the year, as this is refurbished for Senior School students. At the same time, our current Senior School rooms (D1 and D3) along with the office spaces will be transformed into our new Wellbeing Centre, funded by the Inclusive Schools grant we received earlier this year.
Statement of Values for our Community
Mordialloc College recognises the importance of the partnership between schools and parents to support student learning, engagement, and wellbeing. We share a commitment to, and a responsibility for, ensuring inclusive, safe and orderly environments for children and young people.
This Statement of Values sets out our behavioural expectations of all members in this school community, including the principal, all school staff, parents, students and visitors. It respects the diversity of individuals in our school community and addresses the shared responsibilities of all members in building safe and respectful school communities.
Discrimination, sexual and other forms of harassment, bullying, violence, aggression and threatening behaviour are unacceptable and will not be tolerated in this school.
Our Statement of Values acknowledges that parents and school staff are strongly motivated to do their best for every child. Everyone has the right to differing opinions and views and to raise concerns, as long as we do this respectfully as a community working together. Please see the attached Statement of Values for our Community and our Expectations. Statement-of-Values-and-School-Philosophy-Policy.pdf
Staffing News
This term we have welcomed:
Liz Commons returning from Maternity leave to teach Year 9 Science, three days a week
Emma Walker, currently on staff replacing Liz Commons in Term 1 and 2, has taken over Ariana Nickou's teaching load in Year 7. Ariana is now on family leave after having her second child late last term.
Bella Barker, former School Captain and College Dux 2014, graduated mid-year and has secured a position for the rest of the year teaching VCAL literacy. Bella is also a qualified French teacher.
Jenny Tran returns from family leave to resume her position in the International Student program, and we farewelled Jill Samuels at the end of term 2. Jill had been on a short-term contract to replace Jenny for just over 6 months.
Helping Girls Stand Tall
This article by parenting expert Michael Gross, may be of interest. It provides ways to help your daughter develop effective patterns she can use to resolve conflict amicably, respectfully, and effectively so she can stand tall and feel confident in her own skin.
Take care, stay connected and remain safe everyone.
Michelle Roberts
Principal