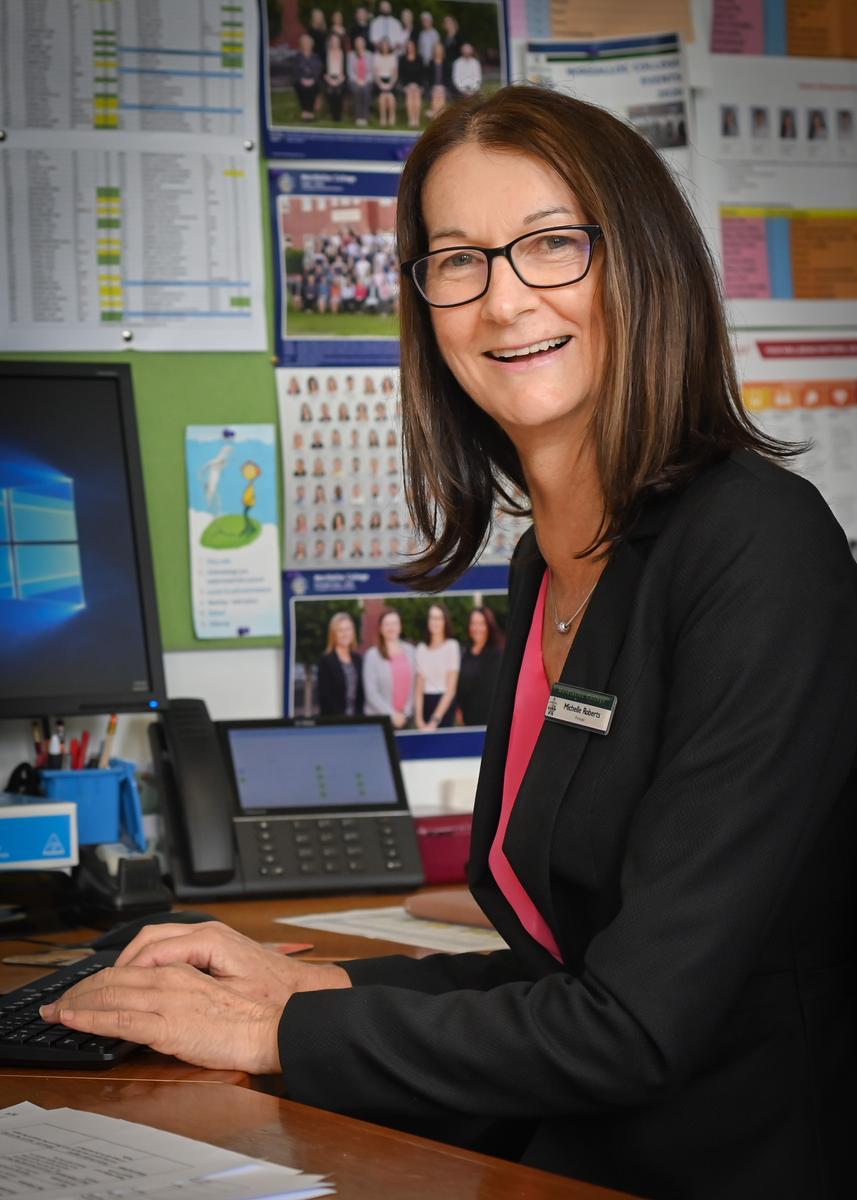 Dear Families, Students and Community Members,
Anzac Day Service
On Monday 26 April, during our assembly timeslot, the College held a whole school assembly to recognise Anzac Day and to commemorate the 106th year of the landing at Gallipoli. The service was organised and led by our School Captains and Middle School Captains, including the schedule of service and all readings. They did a wonderful job and we thank them for their thorough planning and excellent leadership of this important event. Congratulations to Meike Berg, Lorenzo Mortimer, Charlotte Zaph and Lachlan Welsh.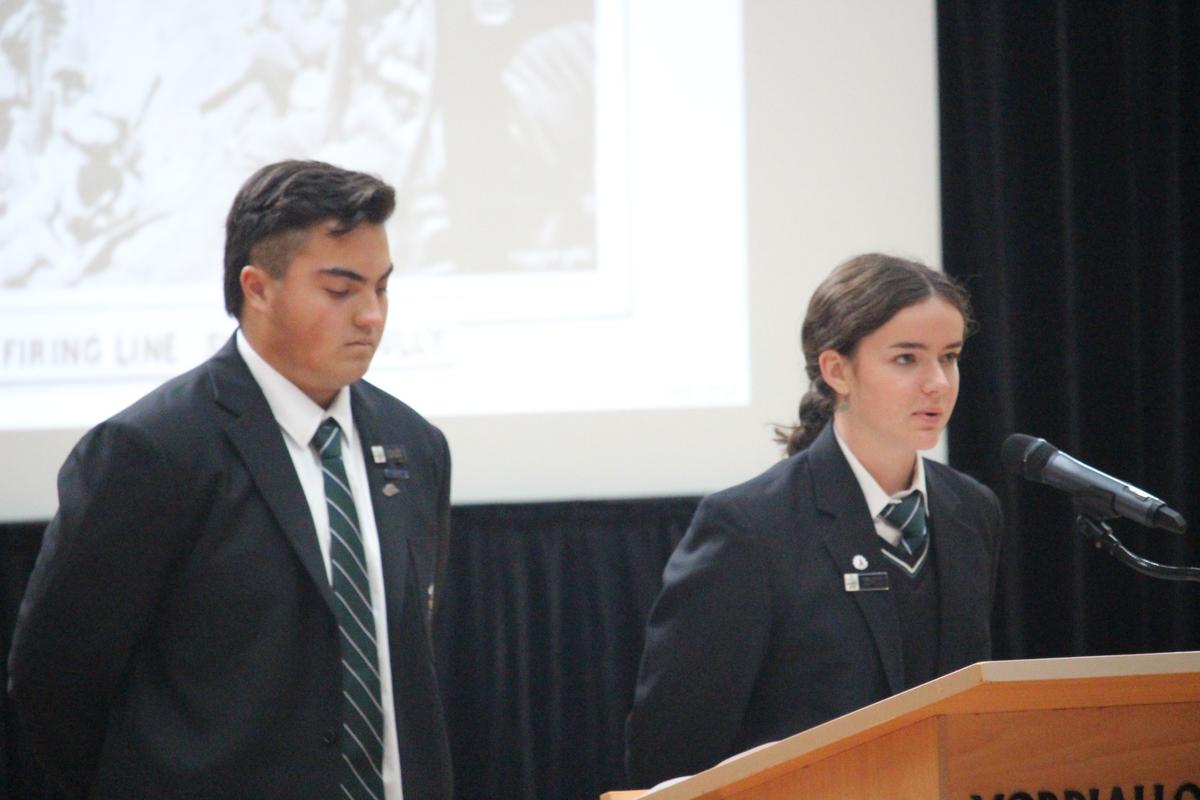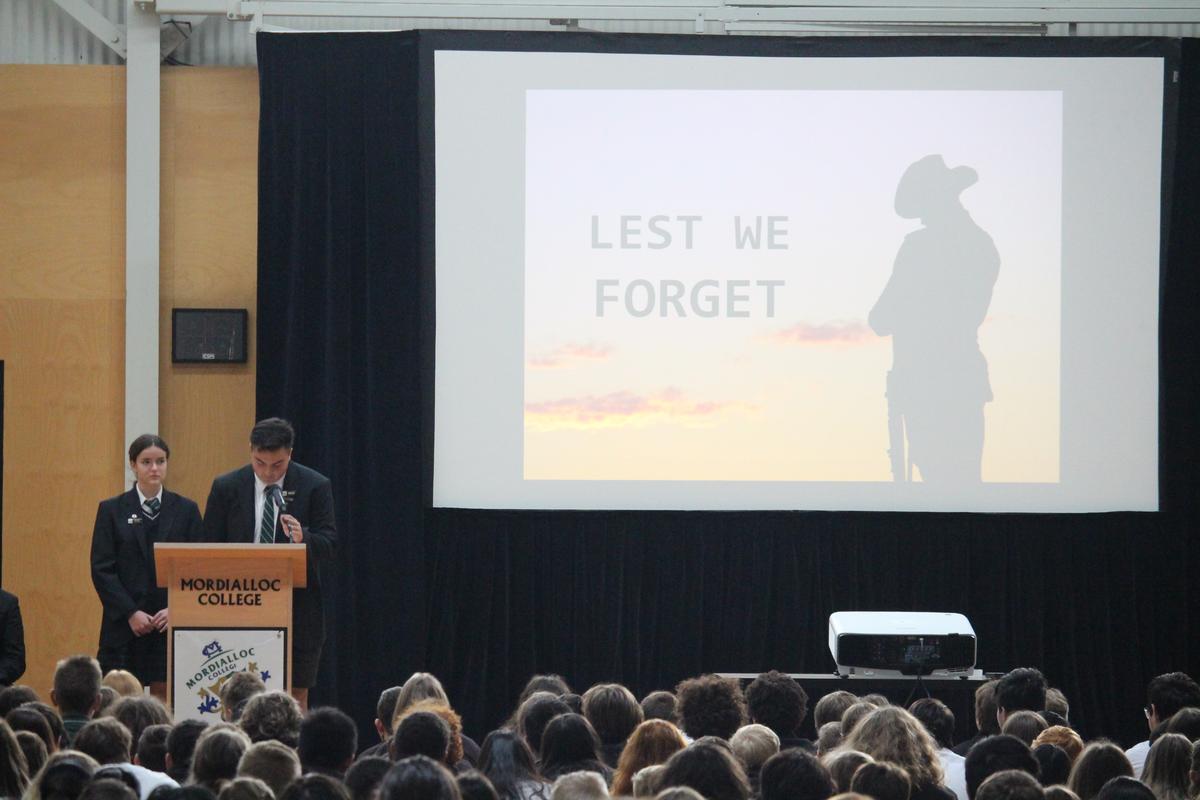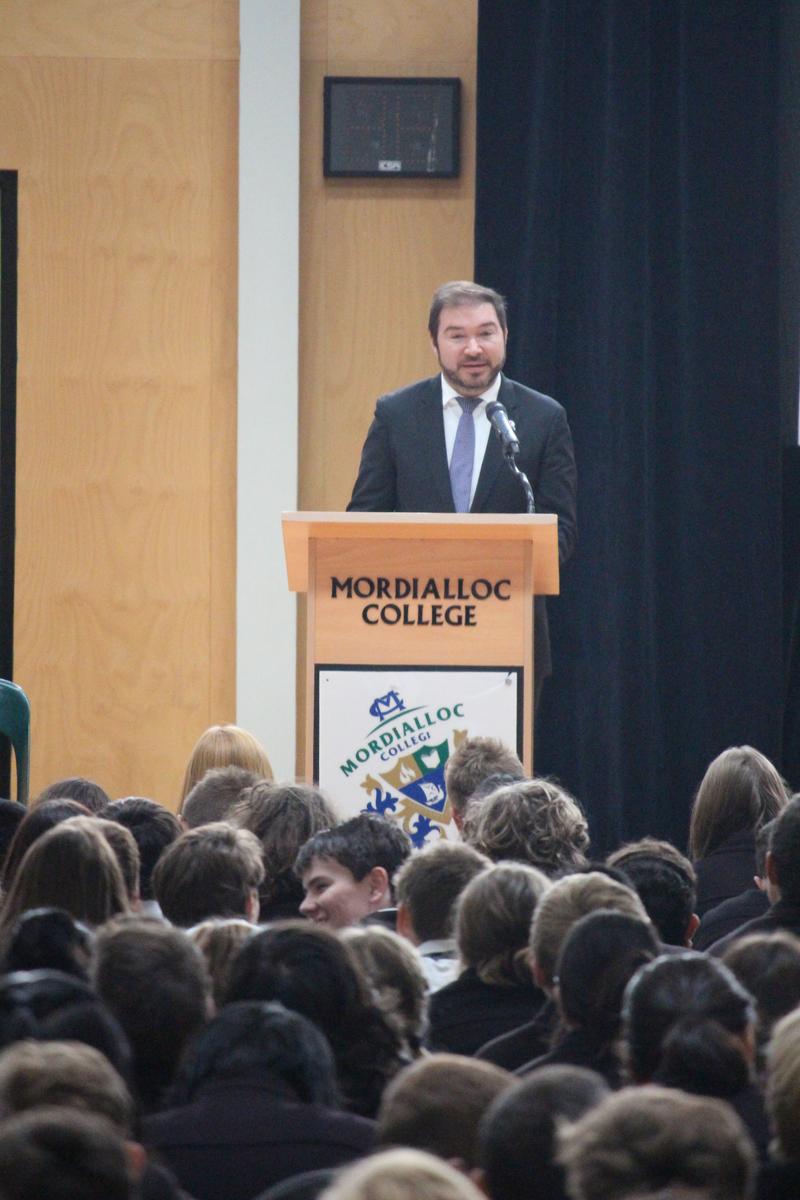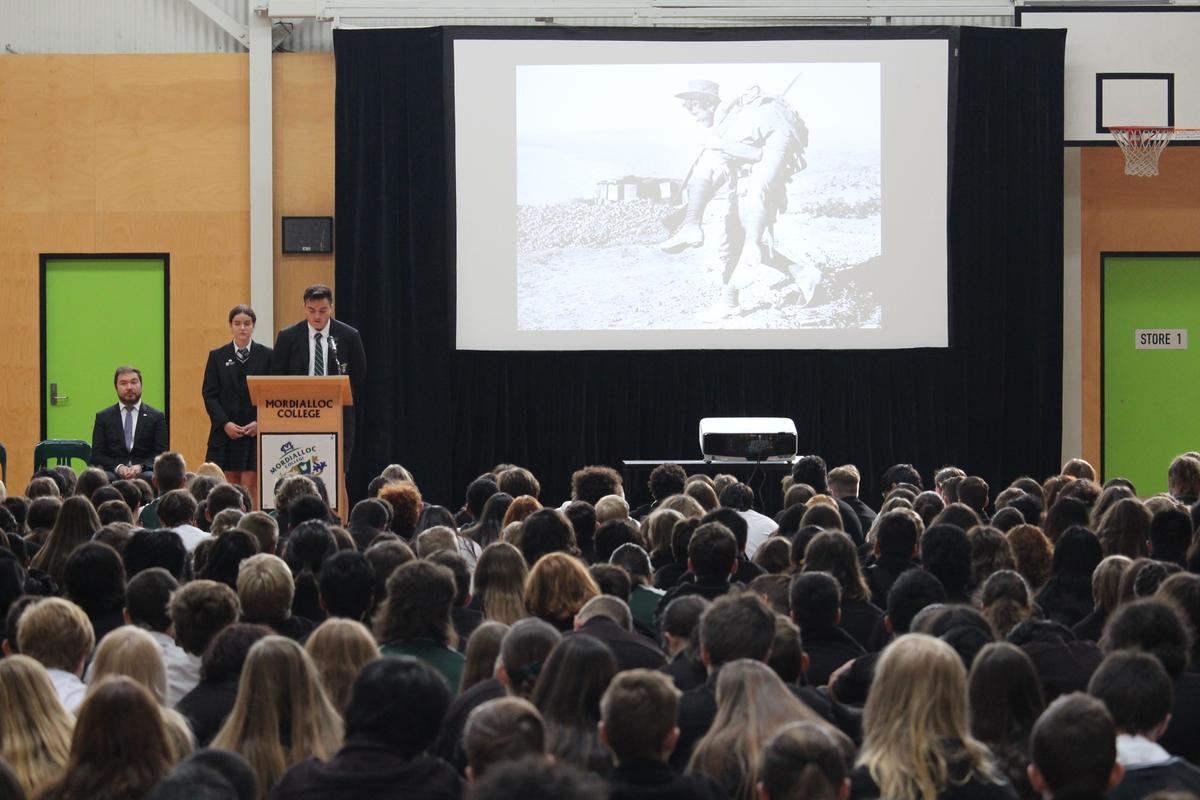 Richard Williams Scholarship
At the end of the service, we also took the opportunity to present our four successful recipients of this inaugural scholarship. Richard Williams was an unsung local hero. He worked tirelessly for others, and always put other people before himself. After his passing in 2020, a few of his close friends, with whom he had been friends since they were students at Mordialloc College, got together to create this Scholarship Fund in his memory. Applications closed in March and the Scholarship Fund Committee in liaison with me selected four students to be awarded this scholarship to support student's studies and/or pursuing a particular interest.
Members of Richard's family were in attendance, including Lindy Langshaw (Richard's partner) and Cheryl Noble (Richard's sister), along with Steve Strange, the Chair of the Scholarship Fund board, David Downie, Secretary of the Scholarship Fund board and Ivor Donohue from the Mordialloc College Alumni Association. Steve spoke at the assembly about the scholarship fund and presented our four recipients with a framed certificate.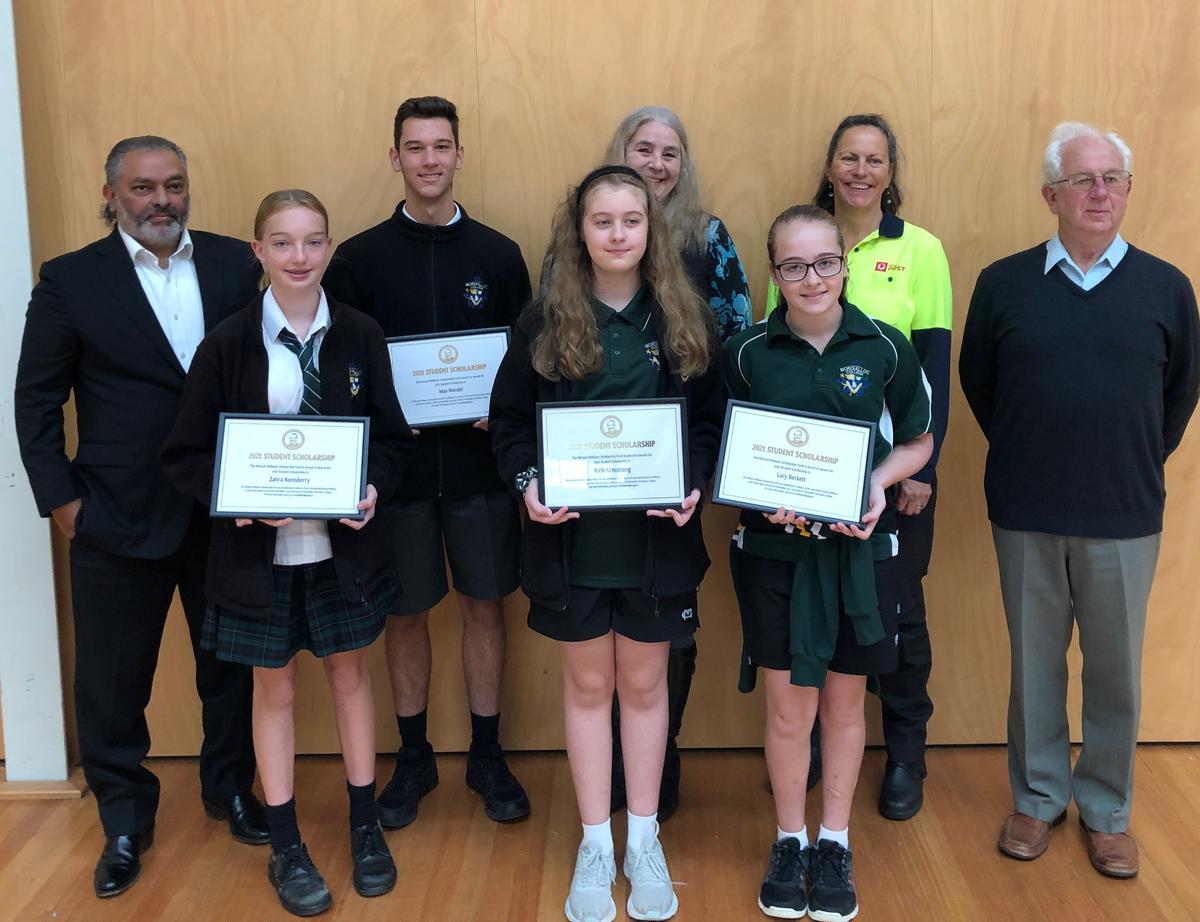 Congratulations to Kirili Armstrong (Year 7), Lucy Beckett (Year 7), Zahra Konisberry (Year 9) and Max Reindel (Year 12).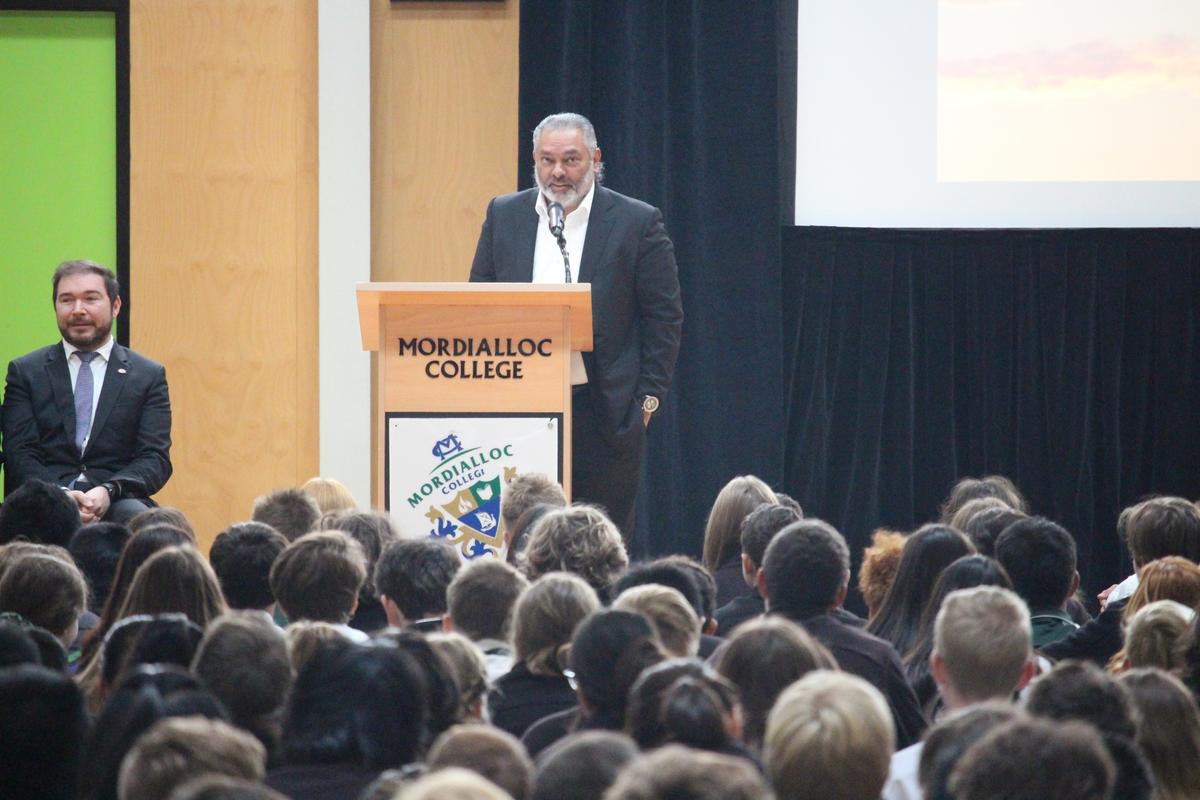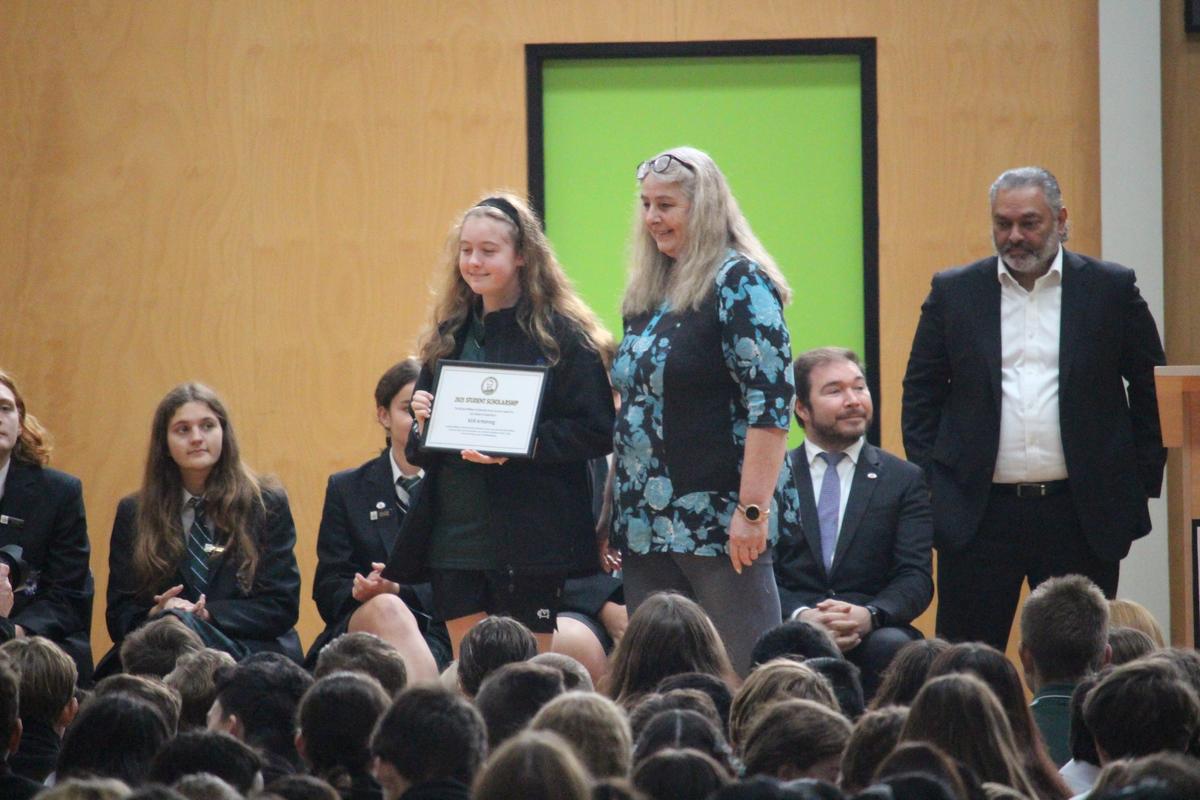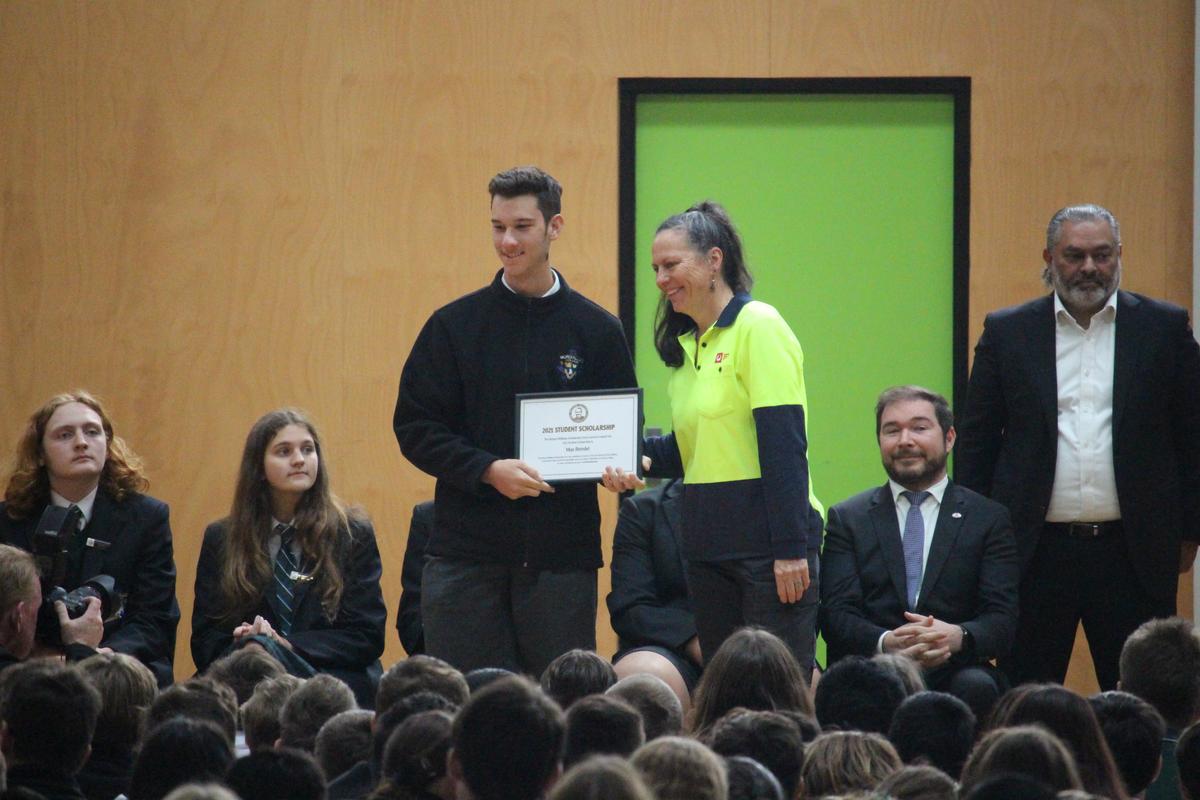 Open Events
Last Thursday we held our Sports Excellence Program (SEP) and SEAL information nights for prospective parents and students in the Year 7 Learning Centre. Thanks to Andrew Potter and Paige Buenemann, the leaders of these programs, for their presentations on the night, supported by the Principal Class team. Congratulations to our student speakers on the night: for SEP – Jessica Rees, Katinka Ellis and Summer Smith Year 8 Netball; and for SEAL Charles Horejsi (Year 7) Aaliyah Zaph (Year 11) and Bianca Davidson (Year 12).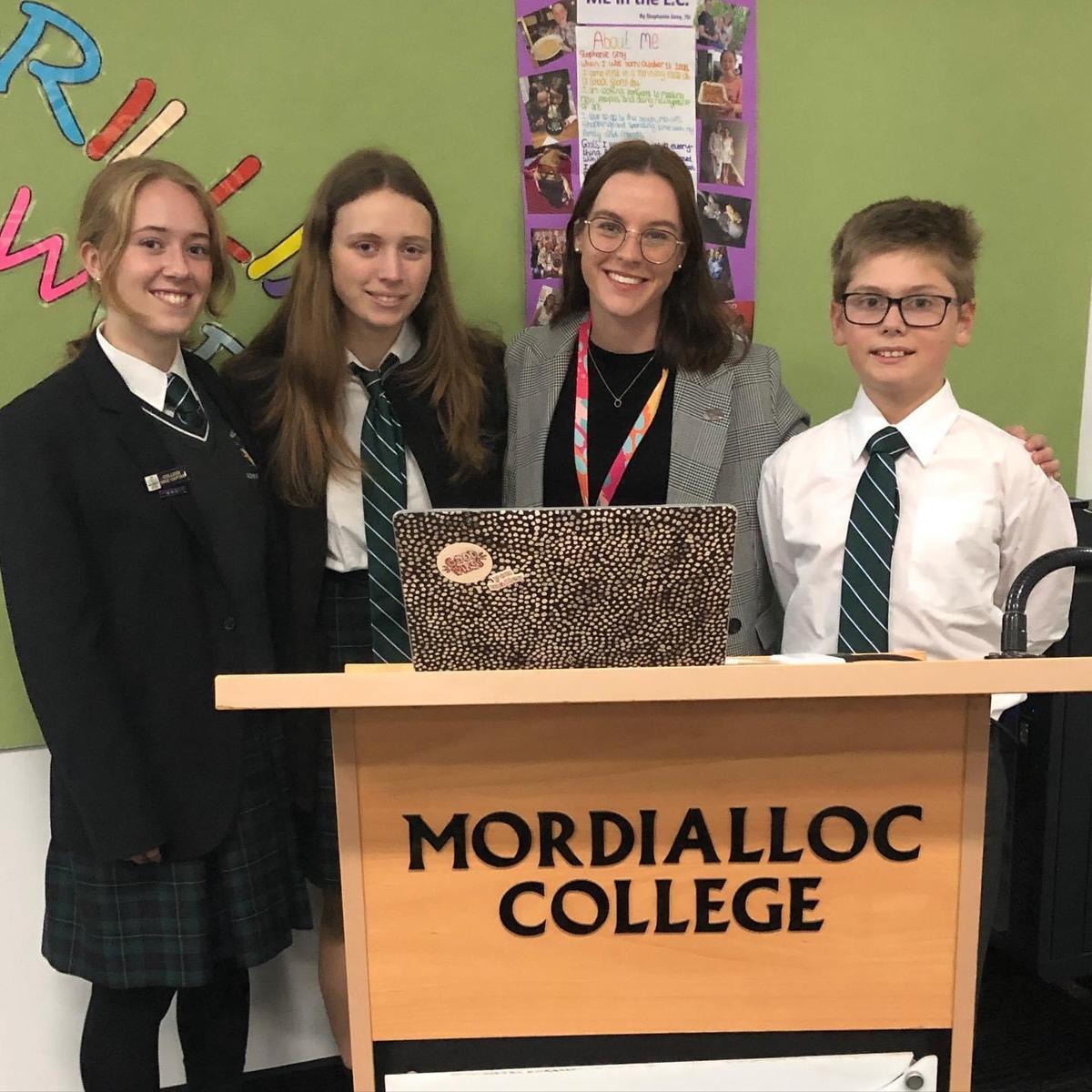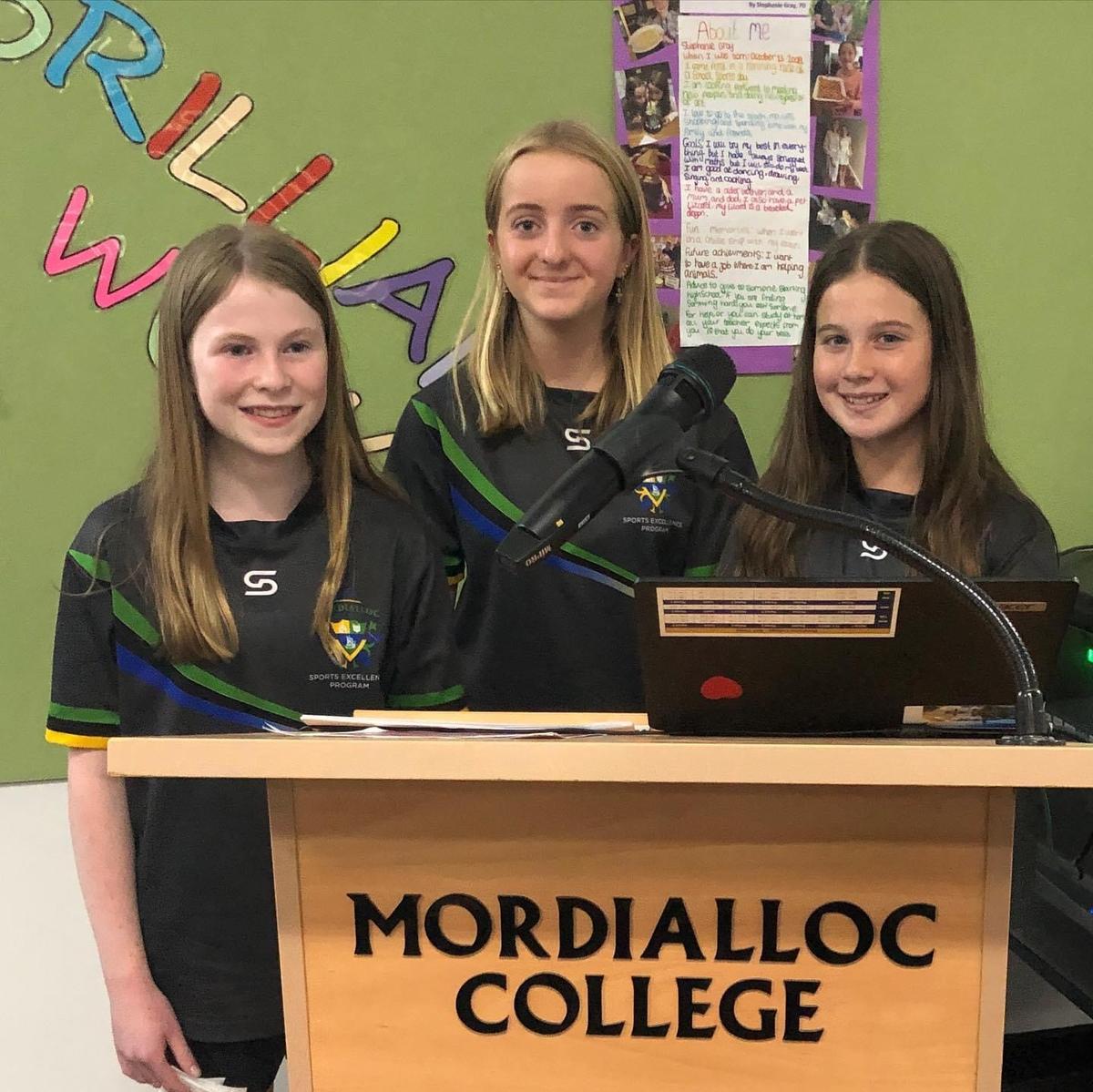 We look forward to meeting prospective students and their parents at our Open Night this Thursday. The whole school will be open for our annual Open Night. Please note, this will be an early dismissal day to allow time for staff to set up displays etc. Students will be dismissed at 2.30pm on this day. They will still have their normal four periods of classes this day, they will just be shortened (following Wednesday bell times).
The formal start to Open Night will be at 6.30pm in the Gym with our School Captains Meike Berg and Lorenzo Mortimer hosting this occasion. I will address the audience followed by our School Council President, Mr Ian Fox. Then two of our students, April George (Year 7) and Jake Hill (Year 8) will provide an overview of our Year 7 and 8 programs and an insight into their experience of starting secondary school. Attendees will then have the opportunity to be taken on a guided tour of the school to see the various learning areas in operation, to meet teaching staff and current students. Thanks to the many students who have volunteered their time to attend the night to act as guides. We will be following the COVID safe guidelines regarding running events under 1000 people. Also, the construction company will move the current fencing near the gym to allow for traffic flow, both for cars parking onsite on the netball court and oval if needed and in managing the movement of attendees entering and exiting the gym.
We also run tours of the school during the day for prospective students and their parents to see the College at work. People are able to book in for our weekly tours on Thursdays and Fridays at 9.30am by contacting Reception.
School Zones
Since 2019, all schools are now provided with a zone. I want to reassure parents that all current students, even if residing outside our new zone, will still have a place at the College, along with any siblings in the future. For new enrolments coming into Year 7, I anticipate that we will have sufficient capacity to be able to take students from outside our zone following the Department's placement policy. To view our new zone click on this link: https://www.findmyschool.vic.gov.au/ Prospective parents who live out of the zone will need to fill in an "out of zone" application form available on our school website and submit this along with their secondary school preference form to their primary school, which then forwards all applications to us.
Parent/Teacher/Student Interviews
On Wednesday 24 March our parent/teacher/student interviews were held and we had a very positive attendance rate onsite and online. We hope that parents and students found these to be valuable in terms of the feedback received. If you weren't able to attend the interviews and wish to discuss your child's progress with a particular teacher or teachers, please contact them via email to organise a time to discuss on the phone. If you have any feedback regarding the interviews set up and process, please don't hesitate to email me or my Assistant Principal, Andrew Moffat.
Congratulations to Jake Ridley
Congratulations to Jake Ridley, one of our Year 8 students, who continues to excel in the pool. Jake recently competed in the School Sport Victoria (SSV) State Swimming Championships winning two gold for butterfly and backstroke. He just missed the SSV 14 year old state record by 0.3 seconds. It was an outstanding swim by Jake.
Over summer he also won gold at the Victorian Sprint Championship and Victorian Age State Championships. Jake's results place him in the top 10 nationally for his age group for eight of the events he swam. This is a wonderful achievement that he can be so proud of, after all his hard work, training and the dedication required to compete at this level successfully.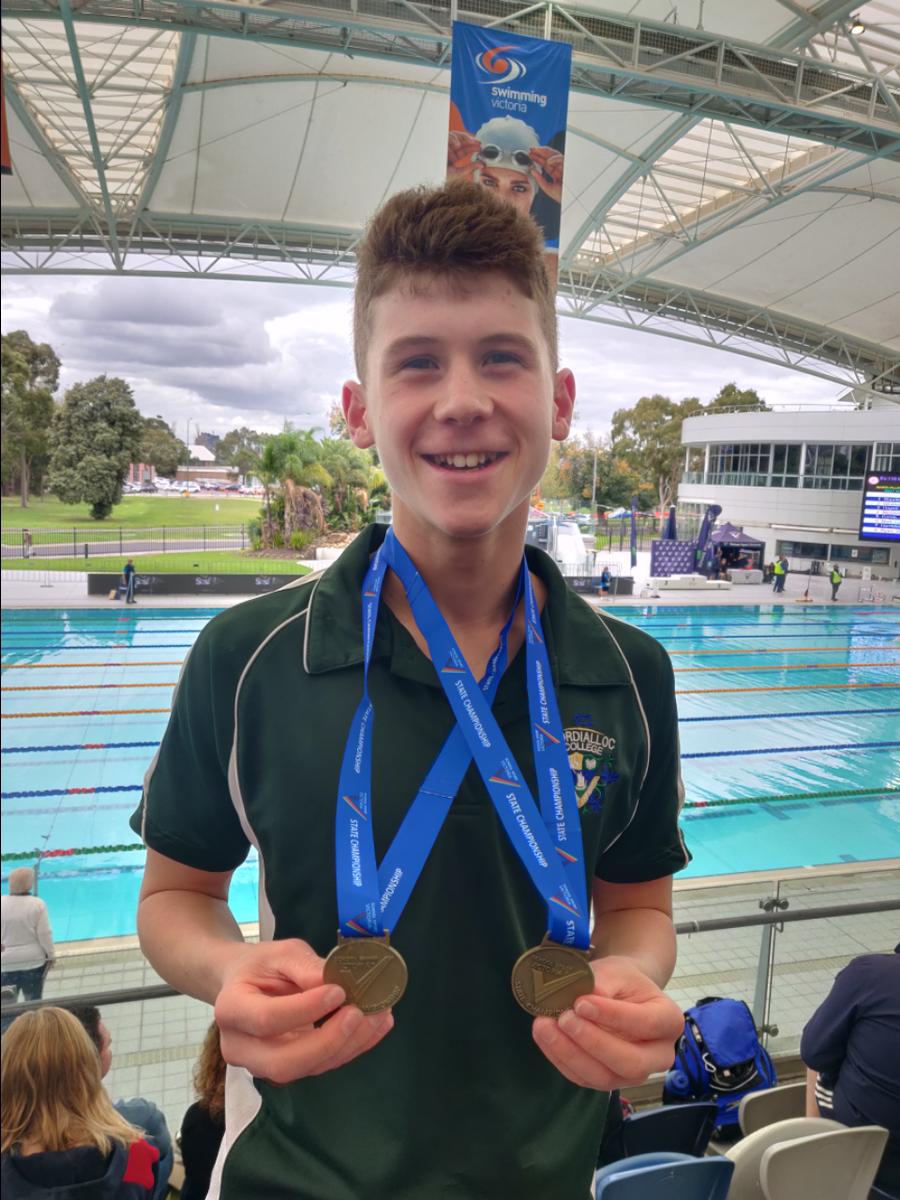 House Athletics Sports
On the last of Term 1 the College Athletics Sports were held on a very warm autumn day. The event was really well supported by students and staff who enthusiastically engaged with the busy program and it was a very successful day. Congratulations to Sport Coordinator Cory Watters for his excellent organisation of this event, and to all students and staff for their wonderful work and positive involvement on the day. The final points and winners on the day, along with the age champions were announced in last weeks' newsletter. It was a very close result. Congratulations to Bunurong (Yellow) for winning on the day (the first time in the last 10 years in Athletics!)
House Cross Country
On Tuesday the College Cross Country was held on a cool autumn afternoon. Congratulations go to Iwala (red house) on their great win with 806 points, closely followed by Bunurong (yellow house) with 803 points, Yerlonga (blue house) were 3rd with 594 points, Kalura (green house) were 4th with 574 points. Congratulations to the following age group champions: 12-13 year female – Noa Souroop; 12-13 year male – Taylor Mackenzie; 14 year female – Swayde Cole; 14 year male – Will Harridge; 15 yea female – Zahra Konisberry; 15 year male – Kaeden Page; 16 year female – Maya Whetstone; 16 year male – Thomas Toth; 17 year female – Abbey Tregellis; 17 year male – Liam Johnson; 18 year female – Meike Berg; 18 year male – John Phan.
It was a terrific contest between the four houses with a high participation rate across the whole school and shows how important it is to participate to the best of your ability, whether running or walking the course. Congratulations to Sport Coordinator Cory Watters for his organisation of this event and to all students and staff for their positive involvement during the afternoon.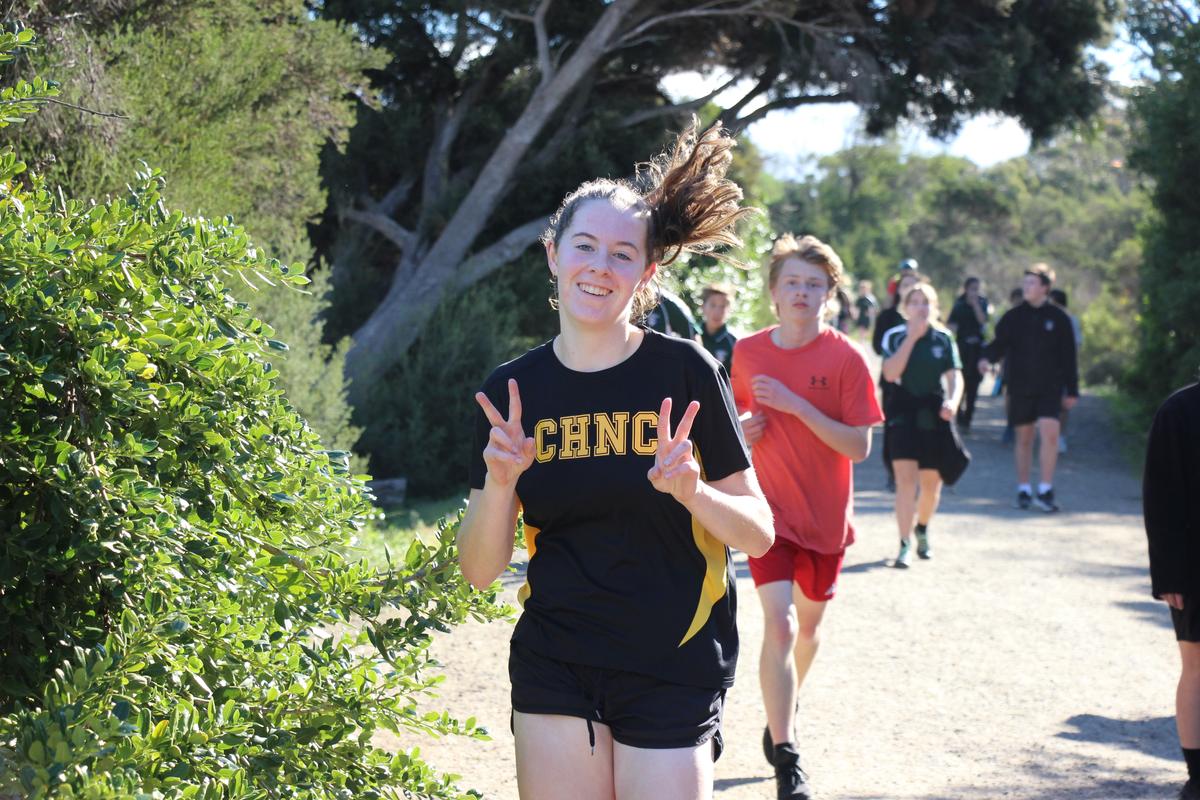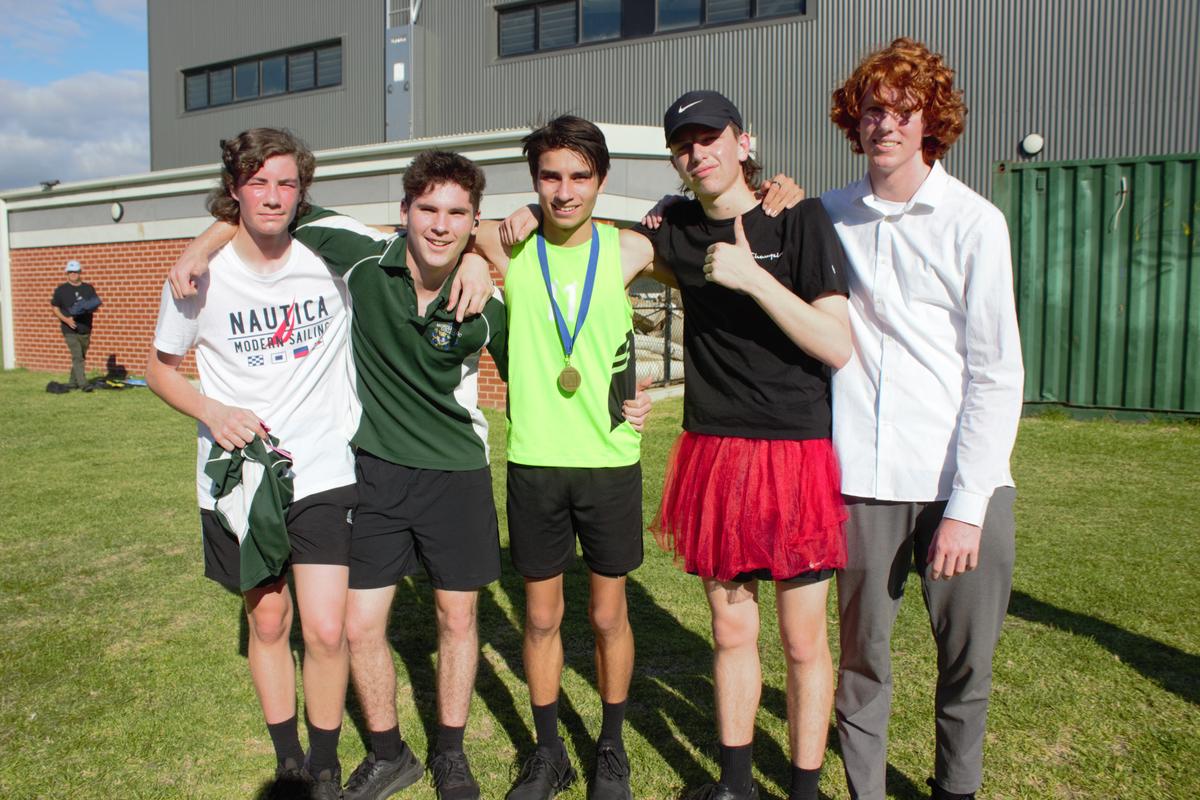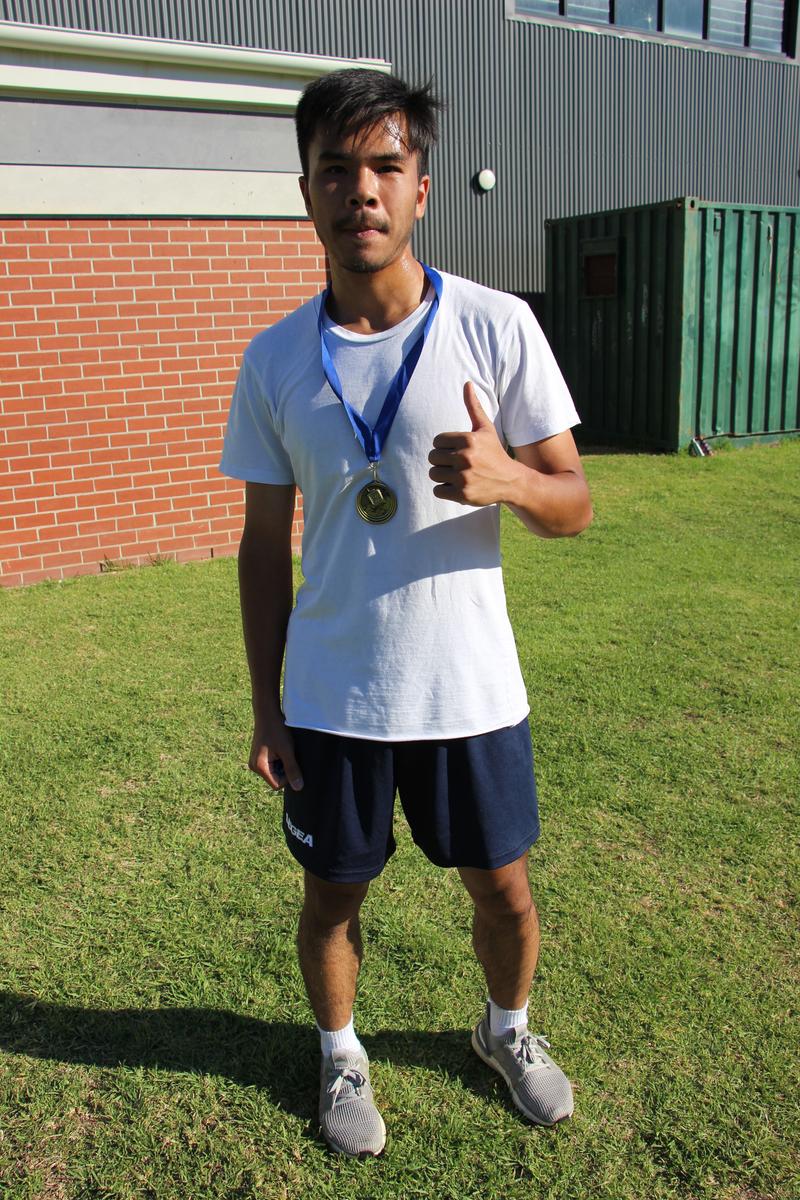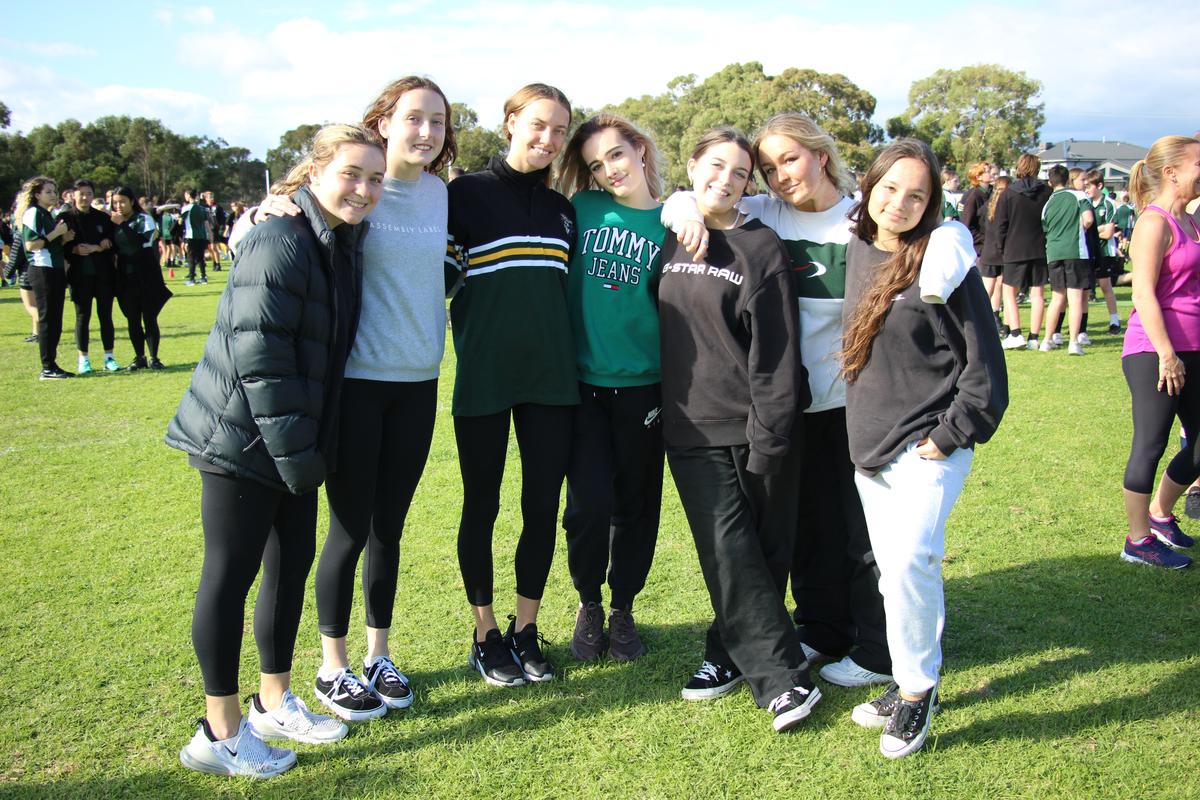 keyboard_arrow_right
Building Program update
From the start of this term, students have been using the new bike shed and locker shed at the Year 7 end of the school. In terms of our new two storey building being constructed near the Discovery Centre, the slab was poured over the holidays, in ground services continue to be installed and the actual construction of the new building has started. The structural steel is expected in the next fortnight. Despite some poor weather, the project is progressing well and still on track.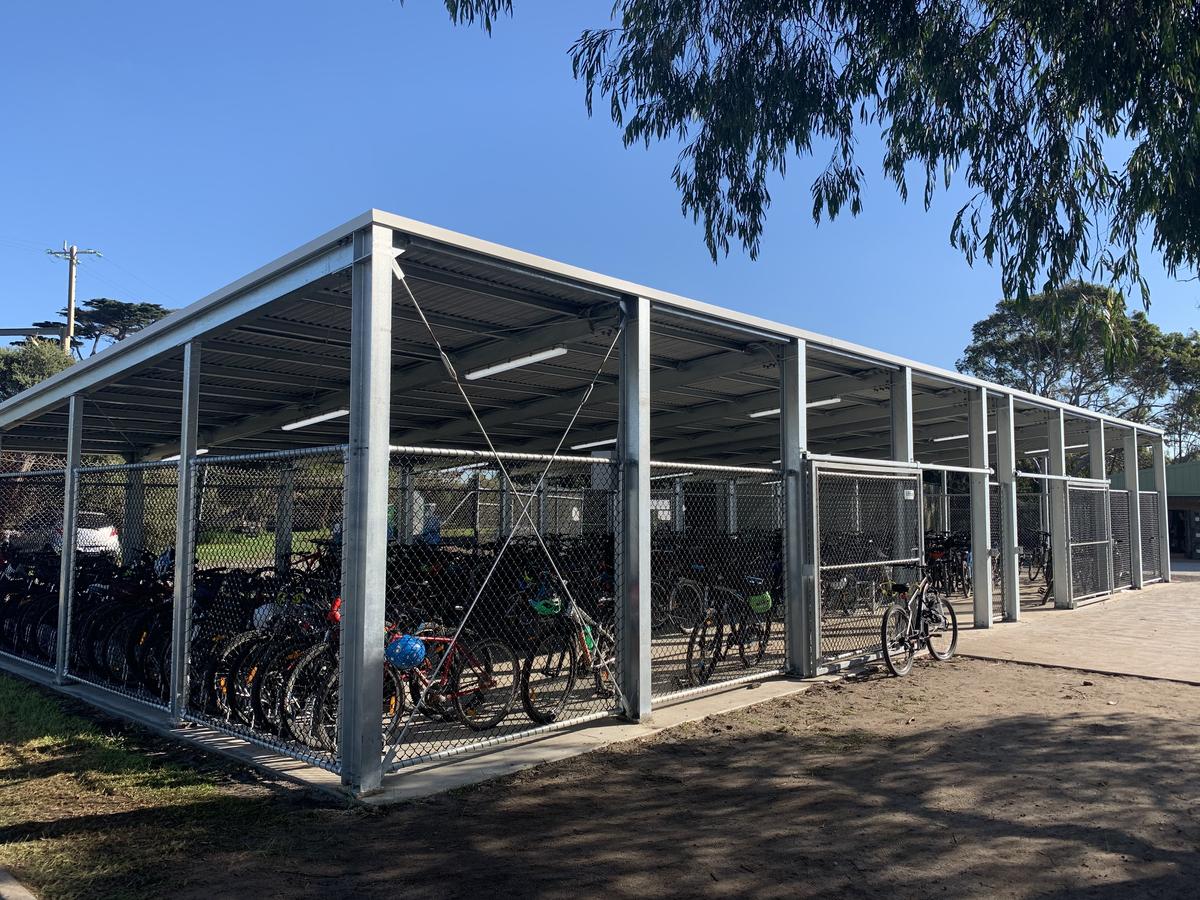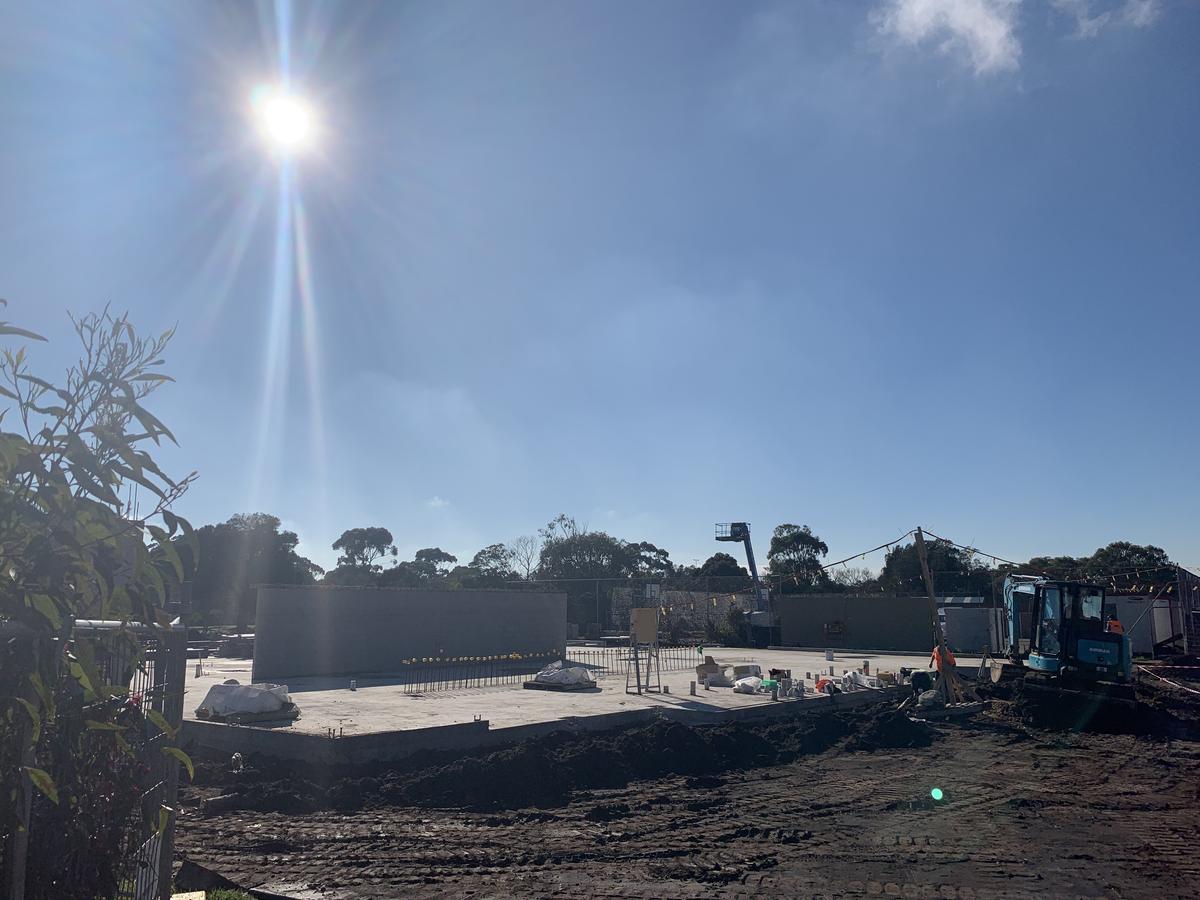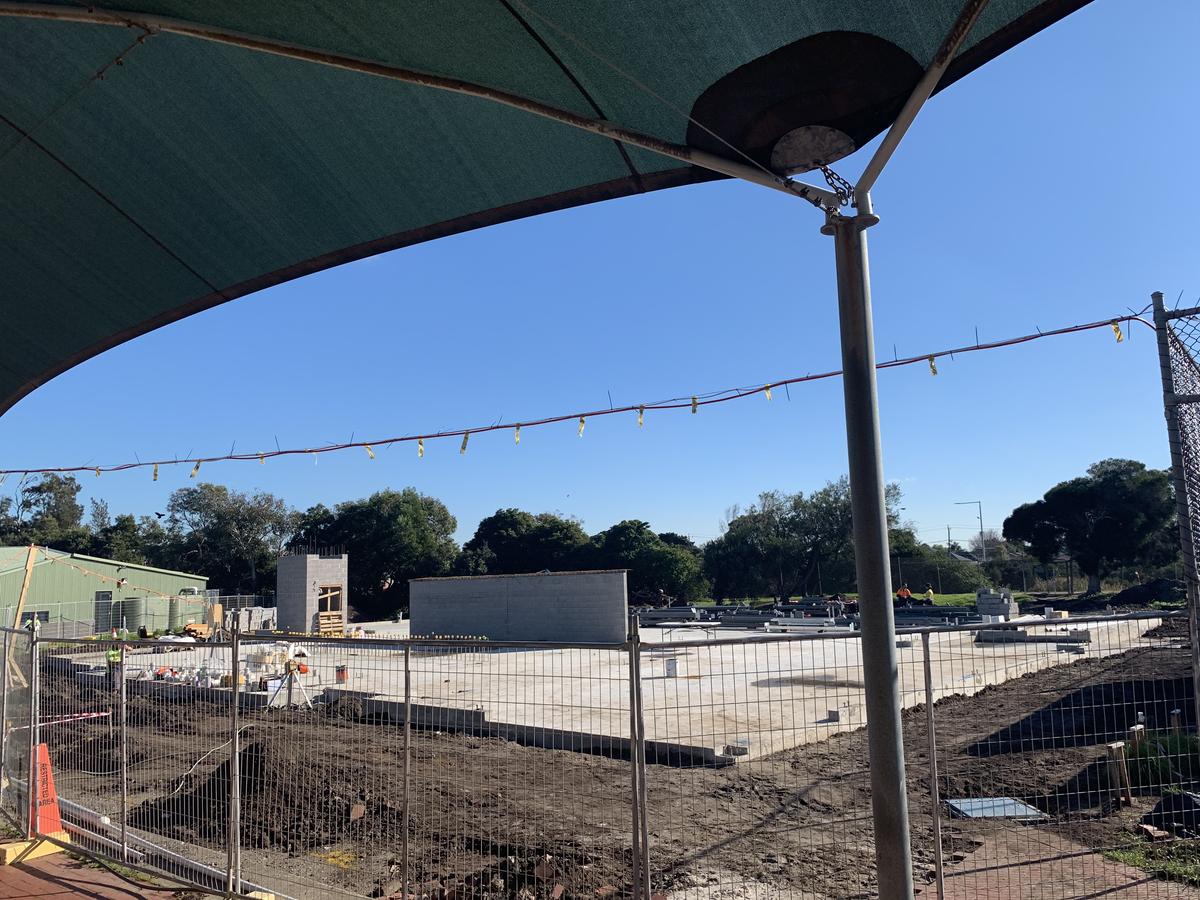 VCE Careers Expo Years 10-12
This Friday our students in Years 10-12 will be attending the VCE Careers Expo held at Caulfield Racecourse.
This is the largest Career Expo in Melbourne and is the best opportunity for students to explore their options, in terms of possible future careers, their secondary school program and post-secondary pathways to ensure that their subjects meet the pre-requisites for their possible career and course options.
This will be followed up with our own Senior School information night and subject expo later this term, leading into course counselling interviews early Term 3 for subject selection for 2022.
Thanks to our Careers and Pathways leaders, Jane Jamieson and Emma White, for organising this event and all of the teachers who will be attending to help supervise 400 students.
Connecting with Boys
This article by Michael Grose (parent educator) may be of interest. He shares communication strategies for parents and teachers of teenage boys. Click here to read – https://www.parentingideas.com.au/blog/connecting-with-boys/
Michelle Roberts
Principal